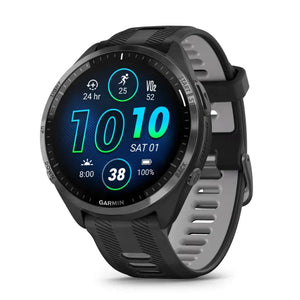 GARMIN Forerunner 965
Regular price
Sale price
€650.00
Tax included.
---
Carbon Grey DLC Titanium Bezel with Black Case and Black/Powder Grey Silicone Band

Train brilliantly with Garmin Forerunner® 965, the premium GPS running and triathlon smartwatch with a bright AMOLED touchscreen display and lightweight titanium bezel. Wake up to your morning report with HRV status to see health insights with an overview of sleep, recovery and training outlook (data presented is intended to be a close estimation of metrics tracked). The training readiness feature tells you when you're primed for a productive session — while daily suggested workouts adapt to performance and recovery alongside the race widget, which provides training tips, course details and completion time predictions. Navigate any route confidently with multi-band GPS and full-colour, built-in maps. With traditional buttons and a touchscreen display, it's easy to tap into your training status and know whether you're training productively, peaking or strained. If you're pushing to outshine the competition, the Forerunner 965 is there to light up every run with up to 23 days of battery life in smartwatch mode. 

TRAINING READINESS
From the moment you wake up, get a readiness score based on your sleep quality, recovery, training load and more, so you can determine whether it's a good day to go hard — or take it easy.

FULL-COLOUR MAPPING
Whether you're running on city streets or riding densely covered trails, Forerunner 965 running smartwatch provides, full-colour, built-in mapping to keep you on track.

TRIATHLON AND MULTISPORT PROFILES
Switch between sports with one press by using built-in profiles for triathlons, duathlons, brick workouts and swimruns. Or, create your own custom multisport profiles.

RACE WIDGET
Get ready for your next race, including marathons, with training tips, personalised daily suggested workouts and completion time predictions based on course details, weather and performance.

DAILY SUGGESTED WORKOUTS
Get workouts made for you. They adapt after every run to match your performance and recovery and take into account the races coming up in your Garmin Connect™ calendar.

TRAINING STATUS
Using indicators such as HRV status, your recent exercise history and performance, get an easy insight into your overall effort — and whether you're training productively, peaking or strained.
Features:
Brilliant AMOLED touchscreen display with traditional button controls and lightweight titanium bezel
Battery life: up to 23 days of battery life in smartwatch mode, up to 31 hours in GPS mode
Confidently run any route using full-colour, built-in maps and multi-band GPS
Training readiness score is based on sleep quality, recovery, training load and HRV status to determine if you're primed to go hard and reap the rewards (data presented is intended to be a close estimation of metrics tracked)
Plan race strategy with personalised daily suggested workouts based on the race and course that you input into the Garmin Connect™ app and then view the race widget on your watch; daily suggested workouts adapt after every run to match performance and recovery
Switch between sports with a button press by using built-in profiles for triathlons, duathlons, brick workouts and swimruns — or customise your own multisport profiles
Using indicators such as HRV status, recent exercise history and performance, get insight into overall effort with training status — and know whether you're training productively, peaking or strained (data presented is intended to be a close estimation of metrics tracked)
As soon as you wake up, get your morning report with an overview of sleep, recovery and training outlook alongside HRV status, training readiness and weather (data presented is intended to be a close estimation of metrics tracked)
Multi-band GNSS with SatIQ™ technology provides superior accuracy in challenging environments while also optimising the device's battery life